Sokkia SDL50 Digital Level 28x
Easy, accurate measurement for construction and general applications.
Sokkia brings the benefits of digital leveling to construction applications at an affordable price with the reliable, easy-to-use SDL50 Digital Level.
In less than 3 seconds and with the touch of a key, height difference and distance can be measured and the result is stored in internal memory.
The SDL50 minimizes human error and maximizes the ease of leveling work, allowing increased productivity and performance.
Supplied with BDC46B Li-ion battery, CDC68 115VAC Charger, dust cover, tool kit, operators manual, carrying case.
Use in conjunction with the Digital Level Rod
Warranty: 2 Years
(Former Part#'s 738050, 210115037)
Key SDL50 features include:
Adjusts height and distance simultaneously
Measurement is less than 3 seconds (single & repeat modes)
Water resistant
2000-point internal memory
Li-ion power system for up to 8.5 hours of continuous operation
Make measurements quick, easy, and accurate:
The SDL50 is an accurate, dependable digital level that combines user-friendly convenience with maximum functionality.
All you have to do is aim the staff, adjust the focus, and then with a single touch of a key the SDL50 accurately measures height and distance.
The results are easy to see on the LCD display.
High-speed measurement
Consistent performance
Water and shock resistant
2000-point internal memory
Li-ion power system for up
Fast Measurements:
Aim, focus and press a key.
Height and distance are simultaneously measured in 2.5 seconds, 20 percent faster than ordinary digital levels.
Reliability you can count on:
You get superior measurement capability under all conditions.
Even when the staff surface is partially shaded, or in dim light where the brightness at staff surface is as low as 20 lux*, the SDL50 consistently provides accurate measurements without downtime.

*20 lux is defined as the minimum brightness with which human face can be recognized.
Automatic recognition of inverted staff:
The SDL50 automatically recognizes directions of RAB-Code staffs and displays the results with a minus sign (-) when the staff is inverted.
Height of ceiling, overpasses, bridges,road signs, tree branches, tunnel crowns, and other objects can be easily measured without a calculator.
Wave-and-Read technology:
The innovative "Wave-and-Read" technology provides an additional survey style.
The SDL50 tracks the RAB-Code staff waved back and forth to read the correct height.
The staff reading becomes the minimum when it is in vertical position.
The SDL50 automatically detects the least value of staff readings.
Choose your accuracy:
SDL50: 0.6 mm (Super-Invar Staff) / 0.8 mm (Invar) / 1.5 mm (Fiberglass) - This Unit
SDL30: 0.4 mm (Super-Invar Staff) / 0.6 mm (Invar) / 1.0 mm (Fiberglass) - Available here

Choose the digital level and staffs according to the accuracy* you need.
Sokkia offers the top of-the-line SDL1X model for higher accuracy of up to 0.2 mm. - Available here

*1 km double-run leveling
Robust internal memory:
Up to 2,000 measurements of elevation or height differences can be recorded in the internal memory.
Auto mode records data as soon as the measurement is taken, while manual mode allows you to check the measurement results before recording.
Stored data is easily exported using the "Spectrum Link" software.
Convenient on-board Programs:
The on-board measurement programs of SDL50 facilitate leveling and setting-out tasks.
Programs include:

Elevation
Height Difference
Cut and Fill Setting-out
Setting-out in Distance
Elevation/Height difference:
The SDL50 calculates height difference between backsight (BS) and foresight (FS)
Elevation of foresight can be calculated by inputting BS elevation
Cut and Fill Setting-out:
Slope can be set using Cut and Fill Setting-out program
Leveling is possible by inputting the height difference zero (0)
Height Accuracy (Electronic)
1.5mm (With Fiberglass RAB-Code Staves)
Standard deviation for 1km double run leveling
Distance Accuracy (Electronic)
[<10m = +/-10mm] [10m to 50m = +/-.1%xD] [>50m = .2%xD]
Display resolution (Height)
.0001 / .001m
Measuring Range
1.6 to 100m
Magnification
28x
Compensator
Pendulum compensator with magnetic damping system
Data Storage
2000 points
Communications
RS-232C
Dust/Water Protection
IPX4
Operating Temperature
-20 to +50ºC (-4 to +122ºF)
Operating Time
More than 8.5 hours
Size
W158 x D257 x H182mm (W6.2 x D10.1 x H7.2in)
Weight
2.4kg (5.3lb)
SDL50 vs SDL30 Specifications Chart: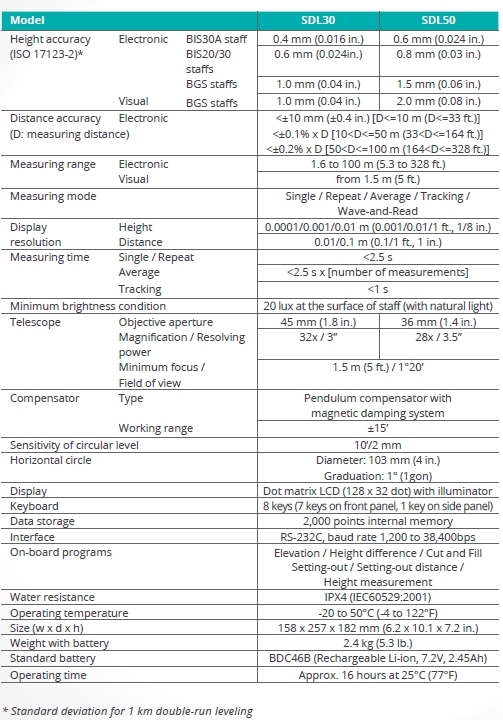 WARNING - This product contains chemicals known to the state of California to cause cancer, birth defects or other reproductive harm. For more information go to www.p65warnings.ca.gov.