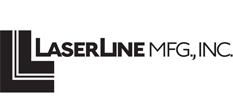 Laserline Manufacturing is a long-standing manufacturer of laser controlled equipment for construction, surveying, engineering, and governmental agencies. For more than 30 years, we have been committed to providing outstanding personalized service, and have earned a solid reputation for producing innovative, technology-driven, quality products.
We manufacture Long Range Alignment Lasers for tunneling, mining, marine, and agricultural layout. Our Guidance Lasers are used for controlling vehicle alignment and wing-tow plows. In addition. we make the world's finest Direct Reading (True Elevation) Grade Rods for use with lasers or optical instruments. Available in 10 foot. 15 foot. 3 meter. and 5 meter lengths. Our line of Laser Power Converters are used worldwide for indoor and outdoor use and will run your laser on either 110 or 220 Volts.
The products that we manufacture are produced in Redmond, Oregon. U.S.A.