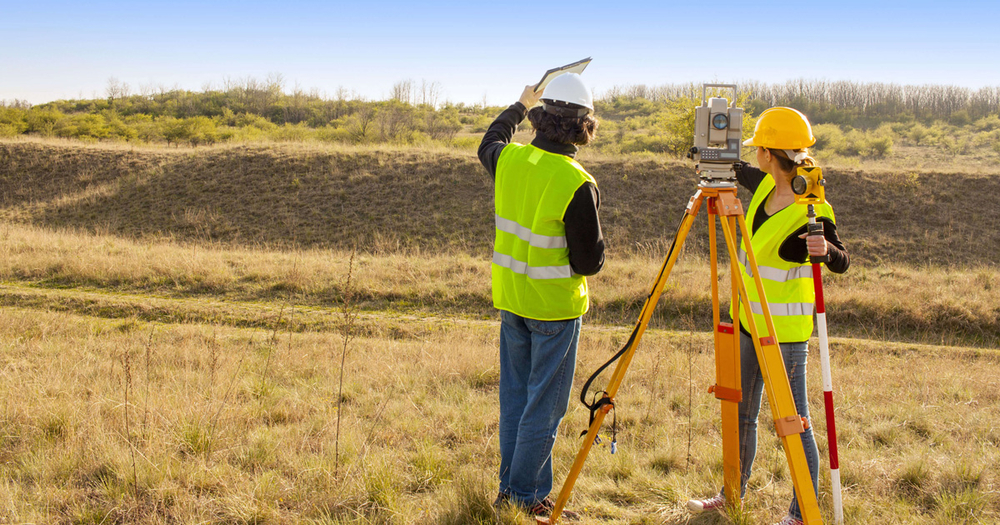 A land survey involves locating and measuring both man-made and natural features using the principles of mathematics, geometry, and other sciences. By using various tools, a land surveyor can measure things such as elevation, angles, and boundaries on a property.
There are multiple forms of land survey, each with a unique purpose and set of required tools.
Below is information about — and equipment recommendations for — seven different types of land survey:
1. ALTA/ACSM Survey
The purpose of this type of survey is to provide a title company and/or lender with the necessary location and survey data to issue an American Land Title Association or Extended Coverage Title Insurance policy. An ALTA/ACSM survey usually shows the relationship between existing improvements on a particular parcel of land relative to the boundaries set forth in the property's deed.
This is one of the most comprehensive types of land survey because it covers all of the features and characteristics of the property.
Recommended Products in this Category:
Dutch Hill T-REX Composite Tripod – Constructed with an aluminum head and fiberglass composite legs, this tripod is extremely durable. It extends up to 72 inches and folds down to 43 inches, weighing just under 18 pounds.
SitePro Single Tilting Prism System – Fully compatible with leading surveying equipment brands, this prism system is lightweight but durable and comes with a padded carry case. It has a built-in peep sight for easy setup and tilts a full 360 degrees.
2. Boundary Survey
A boundary survey is used to locate the corners and boundary lines of a parcel of land. This type of survey involves both record and field research, including any measurements and computations needed to set the boundary lines in accordance with applicable state laws. A boundary survey may also involve locating easement lines and encroachments.
Recommended Products in this Category:
SubSurface ML-3 Locator – Used to identify property corners and buried utility lines, the SubSurface ML-3 Locator offers durable one-handed operation and is completely waterproof. It detects ferrous metal objects at depths of 8 feet or more and automatically calibrates the unit for ambient magnetic conditions.
Schonstedt Spot Magnetic Locator – This sleek, ultra-light magnetic locator is durably built for rough terrain and severe weather. It locates objects up to 18 inches deep, such as utility lines, manhole covers, and survey pins. It also comes with a 7-year warranty.
3. Construction Survey
This type of survey requires staking out structures located on the property, including walls, buildings, roads, and utilities. Staking provides construction personnel with directions for implementing the improvements shown on the development plans. A construction survey may also involve both horizontal and vertical grading in addition to an As-Built survey.
Recommended Products in this Category:
Pfeiler Quality Products Cantilever Column Pod – The ideal solution when stable footing is unavailable for your tripod, this enables setup of your total station or scanner up over a point anywhere between 6" and 20" from the corner of the column (eliminating the need for a tripod). The endless strap ratchet system allows for easy setup with any square, round, or i-beam column of steel, concrete, or wood. Supports up to 40 pounds.
Pelican Case 1500 – Perfect for storing sensitive surveying equipment like prisms and tribrachs, this durable carry case is crush-proof, watertight, and dust-proof. It features an automatic pressure equalization valve, stainless steel hardware, and padlock protectors.
4. Location Survey
Similar to a boundary survey, a location survey provides additional information on the location of interior improvements. This type of survey is most commonly used to fulfill the requirements of a zoning permit or loan application.
Recommended Products in this Category:
Safety Apparel "The Party Chief" Survey Vest – Safety gear is a must-have when performing ground survey work and this bright orange survey vest is a great option. With oversized pockets, breathable mesh openings, and tapered shoulder pads, this vest makes your work comfortable and easy.
SECO 2-Meter GPS Rover Rod – With a vinyl handgrip and durable construction, this rover rod is perfect for GPS survey work. It comes in two 1-meter sections and features a replaceable hardened steel point.
5. Site Planning Survey
Often a requirement for development permit applications, a site planning survey combines the elements of boundary and topographic surveys for site planning. This survey is used to plan design improvements and developments before construction begins.
Site planning surveys are frequently used for designing house lots, subdivisions, stores, playgrounds, commercial & industrial sites, and streets and highways.
Recommended Products in this Category:
SECO 25ft Pocket Tape – A high-quality pocket tape is an essential piece of equipment for any surveying job. This tape measures 25 feet long with a 1-inch blade and it has a rugged plastic exterior with a positive thumb lock for convenience.
Spectra Precision Laser Level LL500 – A long-range, extremely accurate leveling device, the Spectra LL500 can be used across the entire site. It is stable, reliable, and accurate with a 1,600ft working diameter.
6. Subdivision Survey
A subdivision survey is used to divide a parcel of land into smaller tracts, lots, or estates. This type of survey is also used to design streets and drainages, and it must be recorded by the local and state government agency. This survey is also known as a partition survey.
Recommended Products in this Category:
Sokkia SDL30 Digital Level 32x – This digital level works in all environments, from low light to bright sunlight. It is highly accurate in measuring both height and distance, plus the results are immediately indicated on the LCD display.
SECO Thumb-Release Prism Pole Tripod – Perfect for mounting digital levels and other surveying equipment, this tripod is durably constructed and comes in three bright colors. It features a thumb-action release-and-lock mechanism, and each leg adjusts independently up to 6 feet.
7. Topographic Survey
The purpose of this survey is to locate both natural and man-made topographic features on a parcel of land. Examples of such features include fences, utilities, buildings, elevations, streams, trees, improvements, and contours. A topographic survey may be required by a state or local government agency or might be used by architects and engineers for planning site improvements and developments.
A topographic survey is typically implemented through a combination of aerial photography and ground field methods. This type of survey is not limited by property boundaries.
Recommended Products in this Category:
SECO Topo Shoe & Point Combo w/ Pin – This new combo allows easy conversions from "control" to "topo" surveys. On the bottom side, the point comes through the topo shoe to give you a consistent elevation on your rod height. It is very lightweight.
Council Tools 16" Double Edge Ditch Bank Blade – Perfect for clearing brush during ground field surveying, this 16-inch blade is fastened to a 36-inch handle. Made from high-carbon hot-rolled American strip steel, this tool is hard to beat.
When it comes to applying land survey principles and choosing the necessary equipment, each type of land survey has its own unique requirements. No matter what type of land survey is needed, be sure to have the proper tools on hand.
We discuss seven types of land surveying and provide recommended tools for each: ALTA/ACSM, Boundary, Construction, Location, Site Planning, Subdivision, Topographic.