SECO MagPad Collector Bracket for Large and Small Devices
Hold on tight with no hands!
Whether you use a smartphone or a field tablet, SECO's new MagPad takes grip to a whole new level with powerful magnets.
Adjust, turn, clamp with ease.
Device plate 2.35" square or 4.4" square
Self aligning magnets and tapered pocket for secure hold
Horizontal and vertical alignment
Plate is adhesive backed with 3M VHB
Weather tested to ensure security over time and in all environments
Designed for the industries heaviest and most rugged tablets
Pole bracket provides secure, fast, clamping with only a few turns.
Pressure distributing clamp provides a secure, non-slip hold without damaging your pole.
Option Details:
C400 - MagPad Small, 2.35" Square, Magnetic Pole Bracket, Short Arm
C500 - MagPad Large, 4.4" Square, Magnetic Pole Bracket, Med Arm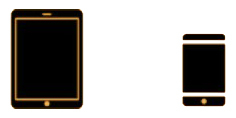 WARNING - This product contains chemicals known to the state of California to cause cancer, birth defects or other reproductive harm. For more information go to www.p65warnings.ca.gov.