Rebar Caps 3/8-inch Rebar and 1/2-inch Pipe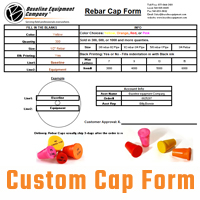 Rebar Survey Markers are designed to provide permanent identification for your surveys.
Rebar Caps are made of high quality polyethylene and will stand up to temperatures ranging from -40 to 150+F.
The markers stand up to environmental factors such as weather, acids, salts, minerals, smog, and other chemicals.
Easy to install and ready to personalize with your PLS, PE, RLS, company name or other information you request at no additional charge.
Available in 4 sizes to fit over rebar or into metal pipe
Available with Standard stamping (no ink) or optional Black stamping
*When ordering online, please email us the PDF Customized Rebar Cap Form to Sales@baselineequipment.com
Model 3000 Details:
These Hi-Viz plastic pipe, rebar caps, and plugs can be indented stamped with either black ink or no ink (standard Stamping.)*
Fits into 1/2" Pipe or over 3/8" Rebar.
They are available in Hi-Viz Orange, Red, or Yellow.
NO Pink or Blue color available in the 3/8" Rebar Cap
3/8" Rebar Cap allows for a maximum of 7 characters per line on two lines.
*Please call 877-844-3101 or use the Contact us page for customization details.
*When ordering online, please email us the PDF Customized Rebar Cap Form to Sales@baselineequipment.com
Rebar Caps usually ship 3-5 days after the order is received
WARNING - This product contains chemicals known to the state of California to cause cancer, birth defects or other reproductive harm. For more information go to www.p65warnings.ca.gov.