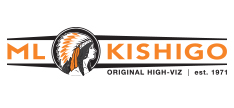 FOUR DECADES. MILLIONS OF GARMENTS. ONE ORIGINAL.
Bona fide. Authentic. The genuine article. For over 40 years, ML Kishigo has been innovating smarter safety and high-viz apparel products that meet our customers' specialized needs.
While other manufacturers dabble in high-viz, we have focused on, shaped, and perfected the industry. If you are going to trust your safety to a garment, we trust you to choose the original high-viz experts.
Effective October 1st to December 31st 2020, ML Kishigo will be waiving drop ship fees and offering free set up on custom logos too!