Hexarmor Safety Eyewear VS300, Variomatic Lens - TruShield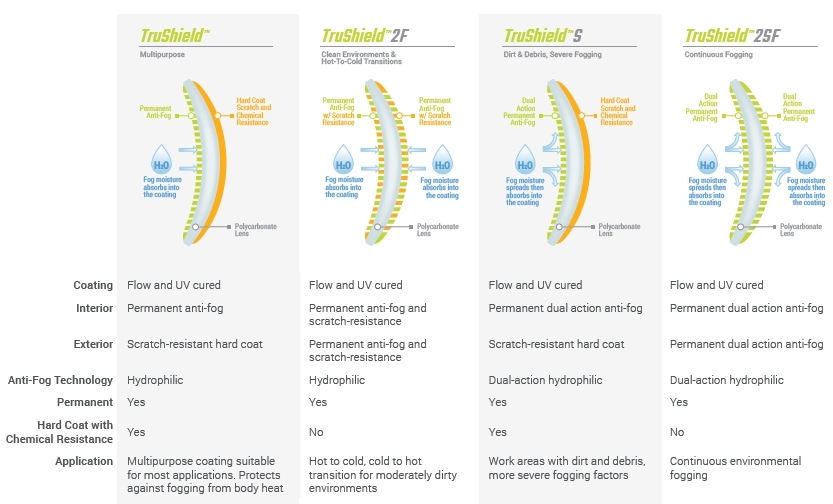 Variomatic Lenses are Transition lenses.
Soft ear pieces guarantee a stable and low pressure fit
Brow guard provides protection from flying particles, dirt, and dust
Flexible side arms with seven inclination levels
Unique dual-injection hard and soft components
Soft flex nose loops ensure even weight distribution on the nose bridge
LTX® Lens Technology for premium optical clarity
100% UV protection
100% metal free
Priced per each, sold per 6, must be purchased in increments of 6
Performance Ratings
ANSI Z87.1.2015
High Impact Rated 787+
CE EN166
CSA Z94.3
Coating: Trushield™
Interior: Anti-Fog
Exterior: Hard Coat Scratch Resistant
Use: Multipurpose
Lens Color Option Details:
Variomatic (11-19004-08)
Variomatic Dark (11-19010-08)
TruShield®:
TruShield® is a multipurpose dual-coating that's suitable for most applications and environments.
TruShield® coated lenses have permanent anti-fog on the interior of the lens and a scratch-resistant hard coat on the exterior of the lens that will not wash off over time.
Variomatic Lenses:
Variomatic lens technology by HexArmor® is for workers who move indoors and outdoors frequently.
Variomatic lenses transition from 87% light transmission to 14% in just 10 seconds; a remarkable speed that allows you to adjust to your surroundings quickly, keeping you safer.
(Approx 30 seconds to return to 87% transmission)
Variomatic Dark Lenses:
For those who need darker tint, try Variomatic Dark, which has the same low transition time (10 seconds to dark)
These lenses feature a 37% to 6% Transmission process
(Approx 30 seconds to return to 37% transmission)
Hydrophilic vs. Hydrophobic Coatings:
To create fundamentally different coatings that not only outperform anything on the market but also maintain their performance over time, HexArmor chemically-engineered their anti-fog coatings to be hydrophilic, which absorb moisture droplets as they hit the lens, eliminating fog.
Wearability®:
If safety eyewear is unwearable, compliance becomes an issue.
At HexArmor, they believe it is possible to have safety eyewear that checks all the boxes: Comfort. Fit. Performance. Style.
They call this, Wearability®.
The result is compliance, which is vital to your safety culture
Cleanability:
HexArmor believes in a fundamentally different protective coating process than their competitors – one that gives wearers permanent anti-fog that never washes off.
After 20 washes and beyond, their coatings still perform, keeping your vision clean, safe and flawless.


WARNING - This product contains chemicals known to the state of California to cause cancer, birth defects or other reproductive harm. For more information go to www.p65warnings.ca.gov.