HexArmor Ceros™ XP250IES Safety Helmet, w/ Integrated Eyewear Clip
Type I, Class C Safety Helmet
Adjustable HexVent® airflow system with three vents for maximum ventilation
Short brim
Integrated safety eyewear clip used with the MX200 (IES*)
Constructed of premium HDPE material
Pre-assembled, six-point AirBridge™ suspension system
SwiftLock™ one-hand-turn wheel ratchet
Easy-to-integrate Click-and-Go™ magnetic accessories and mechanical accessories
Removable, moisture-resistant, synthetic leather sweatband
Unique back-of-head coverage offers up to 17% more protection from falling or deflected debris compared to four competitive North American Helmets.
Customize with company logo, reflective elements, and more
Integrated Eyewear System (IES)*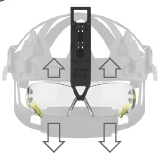 With this integrated clip, HexArmor® MX200 safety eyewear can be pushed up and easily stored inside the Ceros™ XP safety helmet or pulled down to sit on the nose.
The sliding element works independently so that movement of the helmet doesn't impact the eyewear.
The eyewear keeps its position
Simple to Use: The clip system with the integrated eyewear allows eyewear to be easily attached and removed for cleaning or replacement.
Increased Options: The LTX® lens technology of HexArmor® safety eyewear not only ensures a wide field of vision and an optimum fit but is also available with a range of different tints and TruShield® coating options for the lenses.
Increased Safety: The unique construction of the IES means that even when the safety helmet is impacted, it's not transferred to eyewear, ensuring the best possible protection for the wearer.
It's Time to Put Wearability® First - Premium Comfort Comes Standard
Wearability® equals compliance, which is why Ceros™ safety helmet materials were engineered to raise industry standards in comfort and fit.
Take a quick look inside the safety helmet and you'll see for yourself.
SwiftLock™ Wheel Ratchet:
Changing the sizing is simple with the HexArmor SwiftLock™ one-hand-turn wheel ratchet.
Removeable, comfortable padding also envelopes the ratchet for full 360-degree head ring comfort.
AirBridge™ Suspension System:
The premium six-point AirBridge™ suspension system is pre-assembled and ready to wear right out of the bag.
Constructed of soft polyester with affixed straps that are ultrasonically welded, the AirBridge™ eliminates the discomfort and weakness that typically results from stitching the fabric together.
Premium, Moisture-Resistant Sweatband
The Ceros™ safety helmet head ring is constructed with a moisture-resistant, coated synthetic leather as opposed to foam that can deteriorate over time.
It's removable and covers the entire head ring – unlike most helmets on the market.
Accessories and Replacement Accessories: - Call 877-844-3101 to order Accessories NOT linked below
IES Sweatband 17-20002 Replacement
HexShade™ UV XP Short Brim 17-50002
IES AirBridge™ Suspension System 17-19002 Replacement
Wheel Ratchet Padding 17-25001 Replacement

WARNING - This product contains chemicals known to the state of California to cause cancer, birth defects or other reproductive harm. For more information go to www.p65warnings.ca.gov.