Schonstedt Loki Pipe & Cable Locator
Loki is designed for utilities and construction crews seeking a user-friendly, lower-cost alternative to higher-end pipe and cable locators.
A multi-frequency pipe and cable locator designed to "sweep" large areas to quickly and easily locate buried assets, Loki combines new and innovative features to find buried pipes and cables more efficiently.
Available in two models:
Contractor (LOKI-C): 512 Hz, 8 kHz & 131 kHz
Utilities (LOKI-U): 512 Hz, 8 kHz & 82 kHz; capable of detecting multiple sonde frequencies
New features that facilitate accurate locating:
Dual Mode: Simultaneously search for and identify transmitter and power signals for quick and accurate sweeps, prior to excavation.
ShallowAlert™: Audio and visual warning when a cable or pipe less than 12" deep is detected.
NoiseProtect™: Automatically manages the system gain to compensate for strong signals, e.g. from mains power or substations.
Standard Equipment:
Receiver w/batteries
Transmitter w/batteries
Connection leads
Ground Stake & Lead
Quick Start Manual
Carrying bag
LOKI Specifications:
Weight: Receiver: 4.9 lbs (2.2kg), Transmitter: 4.0 lbs (1.8kg)
Water and dust resistance: IP54
Audio options: Tx has built-in water-resistant speaker, generating audio capable of being heard over road traffic. Rx has detachable speaker, doubles as ear piece.
Operating temperature: -4°F to 122°F (-20°C to 50°C)
Storage temperature: -4°F to 158°F (-20°C to 70°C)
Dimensions: Rx: 28" x 9.8 " (71cm x 25cm) Tx: 10.8" x 6.9" x 2.4" (27.5cm x 17.5cm x 6cm)
Battery type: D Cells
Battery run-time: Rx: 13 hours (alkaline) Tx: 8 - 20 hours depending on mode (alkaline)
Depth accuracy: Line: 5% 0.3' - 9.8' (0.1m - 3m) Sonde: 5% 0.3' - 16' (0.1m - 4.8m)
Locate accuracy: +/- 10% of depth
Warranty: 1 year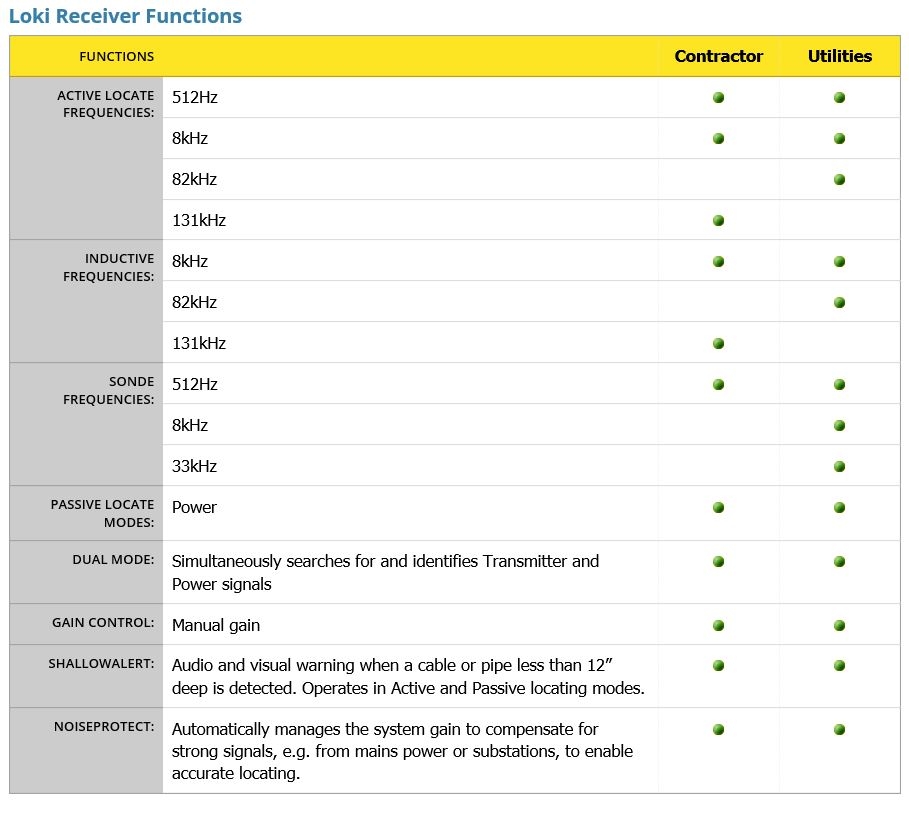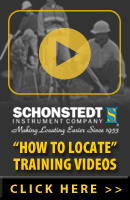 WARNING - This product contains chemicals known to the state of California to cause cancer, birth defects or other reproductive harm. For more information go to www.p65warnings.ca.gov.