Schonstedt GA-52Cx Magnetic Locator, Pink Locator for Breast Cancer Research

LIMITED EDITION

PINK

52Cx-BC. -

Pink

is the new Yellow

In support of Breast Cancer Awareness Month, Schonstedt is offering a limited edition of Pink 52Cx-BC's.

During the month of October, a portion of the proceeds from sales of the Pink locator will be donated to the Breast Cancer Research Foundation.


According to the World Health Organization, breast cancer is the most common cancer among women worldwide, claiming the lives of hundreds of thousands of women each year and affecting countries at all levels of development.

Based on the popular GA-52Cx (Schonstedt's flagship "yellow stick"), the pink 52Cx-BC is designed in pink and black
The pink 52Cx-BC will ship with a black, padded soft case
Order quickly; There is a very limited supply of pink 52Cx-BC's; Schonstedt does not expect these to last long!
The GA-52Cx Details:
The GA-52Cx Magnetic Locator is so rugged and dependable it's backed by a 7-year warranty
Schonstedt's underground magnetic locators have been setting the standards for reliability and dependability for over 40 years.
They are designed to withstand the rigors of daily on-site usage and a wide range of environmental conditions.
Unmatched sensitivity allows you to find what you're looking for quickly, without the risk of passing over your target.
Schonstedt's locators last 100% to 250% longer than others, making your investment a solid one.
85% of the Surveyor market can't be wrong.
Easy-To-Use:
The GA-52Cx Locator detects the magnetic field of iron and steel objects and energized power lines.
Both provide audio detection signals that peak in frequency when the locator's tip is held directly over the target.
Only two Controls!
Designed for one-hand operations, the On/Off-Sensitivity and Volume controls are located on the underside of the cover.
This provides easy access, protects the knobs and contributes to their overall ruggedness and dependability.
GA-52Cx Features:
Most Sensitive
Audio Output
5 Levels of Sensitivity
No response to aluminum, brass, or copper
Patented HeliFlux® sensors
Modular construction; high performance components
7-year warranty
Soft Black Carrying Case
2x 9V Alkaline Batteries (in unit) (p/n: B11013)
GA-52Cx Specifications:
Input Power: Supplied by two alkaline 9-V batteries
Battery Life: 40 hours (intermittent usage)
Output: Approximately 40 Hz idle tone in speaker. Tone frequency increases (or decreases) with gradient-field intensity.
Weight: Approximately 2.5lb. (1.13 kg.)
Operating Temp: -13° to 140°F (-25° to 60°C)
Overall Length: 42-5/16 in. (107.4 cm)
Waterproof Length: 34-1/2 in. (87.6 cm)
Nominal Sensor Spacing: 20 in. (50.8 cm)
Construction: Rugged, modular all solid state in aluminum casing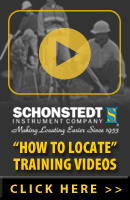 Parts Available
Schonstedt GA-52Cx Parts Diagram

WARNING - This product contains chemicals known to the state of California to cause cancer, birth defects or other reproductive harm. For more information go to www.p65warnings.ca.gov.