Dicke Safety Products Non-Reflective Roll Up Road Sign Replacement Face
Non-Reflective Vinyl for daytime use only
Fluorescent orange for high visibility
Sign Size: 36-inch or 48-inch
Durable, 18oz. re-enforced vinyl
Delta Pocket; 3/4" depth, easiest to deploy, Tough Lexan plastic, Narrow width, rolls up smaller, 3 rivets for better holding power
Hook and loop strap for storage.
Includes the Fiberglass Cross Brace

Custom Legends that are Non-Stock will include a $60.00 Permanent Setup Fee (only paid once, plate on file forever) or a $35.00 Temporary Setup Fee (to be paid each time the custom Legend is ordered.)
Please use the Contact Us page or call 877-844-3101 for Non-listed Legend availability and pricing.
*"Survey Crew" and "Survey Crew Ahead" are available for Quick Ship
FFS2 = Optional Flag Folding System:
Designed to allow permanently mounted warning flags to be quickly locked in place.
Flags are 18" x 18" blaze orange vinyl coated nylon on 1" wide fiberglass staffs.
Keeps vinyl flags with sign panel at all times.
Flags roll up inside panel for protection.
Simple, easy to use mechanism.
Flags deploy by rotating into the display position and sliding the clip down, reverse for storage.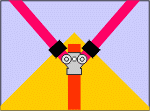 WARNING - This product contains chemicals known to the state of California to cause cancer, birth defects or other reproductive harm. For more information go to www.p65warnings.ca.gov.