Bad Elf Flex Base/Rover
(2) BE-GPS-6500 - Bad Elf Flex Extreme GNSS Receivers
(2) BE-URK-5000 - UHF Flex Radio Kits
A full Base / Rover Solution
(Rover Rod Poles Sold Separately)
BASE/ROVER REIMAGINED
Bad Elf introduces a base/rover feature built upon the Bad Elf Flex® GNSS receiver.
This new base/rover feature brings affordable centimeter-level accuracy to surveyors and geospatial professionals working anywhere in the world.
The solution consists of two Flex GNSS receivers and two UHF radios, allowing customers to perform high-accuracy field data collection in areas where traditional RTK corrections or cellular coverage is not available.
Existing Flex customers can upgrade to a base/rover solution by adding a Flex radio kit, one for the base and one for the rover.
ACCURATE
Built on the survey-grade Hemisphere Phantom GNSS engine
Expected accuracy - 1 cm horizontal in good conditions
Quad-constellation corrections source from base to rover
Range (power-determined) 2-10 km line-of-sight
Global operations, regardless of cellular coverage
AFFORDABLE
A professional system for a cost-competitive price without sacrificing features or functions
VERSATILE
No need for dedicated devices and configurations.
Bad Elf Flex Extreme operates as either a base or a rover. (

Rover mode is available with Flex Standard using a Flex Token to enable Extreme mode)

Simply fire up the Flex app and enable either mode of operation.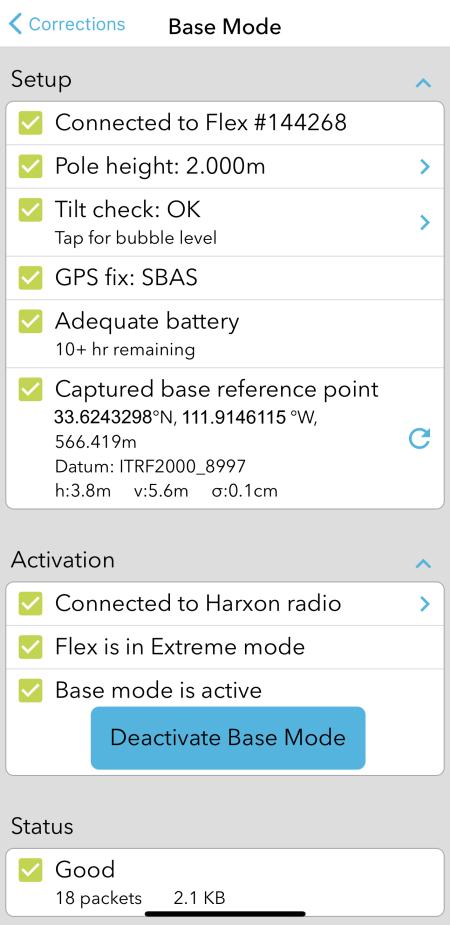 CHECKLIST-BASED WORKFLOW
An intuitive tool to ensure best practices, built upon lessons learned from the aviation industry. Designed to mitigate error and improve efficiencies in the field.
Pole height and antenna configuration
Tilt check and calibration
GNSS lock
Battery checks
Radio connectivity checks
Configuration of base location via here point or known point, with associated datum metadata
Reliable GNSS checks
OPEN DATA STANDARDS FOR ALL COLLECTED INFORMATION
CSV

logs
Standard Rinex is compatible with OPUS and many other post-processing systems

JSON

metadata for events and project details
Standard NMEA streaming via Bluetooth or USB
FCC-APPROVED
FCC-approved radios with callsign support
The radio kit includes a checklist for customers to obtain an FCC license with recommended frequency coordinator
Radio LCD screen supports configuration and status monitoring
FULL-FEATURED
Radio charging is available via provided AC adapter
Includes protective equipment case, charger, and mounting accessories
OPTIMUM SETUP
Fully compatible with iOS and Android phones and tablets
Bluetooth connected - clean setup with no wires
Primary interface via Flex utility app
Standalone operation from the Flex LCD screen for use without a connected phone or tablet
Native multi-rover support
RELIABLECONTINUAL SYSTEM CHECKS
Constellation health
Tilt-check as well as a movement indicator
Radio connectivity issues
Bluetooth connection loss
Flex and radio battery state-of-charge
ADVANCED LOGGING
All events logged with data and packed with timestamps for maximum integrity
Should a recorded session need to be defended for truth or accuracy, everything that is needed to recreate a session is included in one place
---
Bad Elf Flex® UHF Radio Kit Details:
The Flex radio kit provides a UHF radio link used for communicating corrections from a Flex operating as a fixed base station to one or more Flex units operating as rovers.
A Flex radio connects via Bluetooth to Flex and requires no additional cables.
For more information see the Bad Elf Flex base/rover page or contact sales@baselineequipment.com
Operating Frequency: 450mHz to 470mHz frequency range.
Radio Kit Contents:
Harxon Radio HX-DU1603DUHF Antenna
Rugged carrying case
AC wall charger
Charging/Serial Cable
Survey pole mount


BAD ELF FLEX™ Extreme Specs:
PART NUMBER: Model BE-GPS-6500 (formally BE-5500GPS)
POSITIONING ENGINE1
GPS: L1CA / L1P / L1C / L2P / L2C / L5
GLONASS: G1/G2/P code (P1/P2)
BeiDou: B1/B2/B3 (separate variant without L5)
Galileo: E1BC / E5a / E5b
QZSS: L1CA / L1C / L2C / L5
POSITIONING PERFORMANCE
Horizontal accuracy - RTK: 1 cm
Horizontal accuracy - SBAS (WAAS): 30-60 cm
Horizontal accuracy - Autonomous: 1.2 m
Horizontal accuracy - L-Band via Atlas: 4 cm
Timing (1PPS) accuracy: 20 ns
Cold start time: < 60 s typical (no almanac or RTC)
Warm start time: < 30 s typical (almanac and RTC)
Hot start time: < 10 s (almanac, RTC, and position)
Maximum speed: 1,850 kph (999 kts)
Maximum altitude: 18,288 m (60,000 ft)
Differential options: SBAS, Autonomous, External RTCM v2.3, RTK v3, L-band (Atlas), and DGPS
Correction I/O protocol: Hemisphere GNSS' ROX, RTCM v2.3 (DGPS), RTCMv3 (RTK), CMR, CMR+, Atlas
INTERFACES
USB: USB 2.0 device via Mini-USB receptacle, USB 2.0 host OTG via supplied adapter
Bluetooth: Bluetooth V4.0 (HS) with integrated Class 1.5 PA, Supports 3 simultaneous connections
Wi-Fi: 802.11b/g/n
COMPATIBILITY
Platforms: iOS, Android, Windows
Mobile App: The Bad Elf Flex App requires iOS 9.0+ or Android 9+
Connectivity: Bluetooth SPP, USB Serial
OPERATING SPECIFICATIONS
Operating: –4°F to +131°F (–20°C to +55°C)
Battery Powered: -14°F to -140°F (-10°C to +60°C)
Externally Powered: -22°F to +140°F (-30°C to +60°C)
Charging Temp: 41°F to +113°F (+5°C to +45°C)
Storage Temp: –40°F to +167°F (–40°C to +75°C)
BATTERY SPECIFICATIONS
Full RTK: 11 hours
L-band Atlas: 8 hours
MECHANICAL SPECIFICATIONS
User interface: Transflective, LCD, Membrane Buttons, 3 multicolor LEDs, Audible tones
Dimensions: 10.0" x 2.75" / 254mm x 70mm
Weight: 29oz / 854g
Helical Antenna Phase Center: 23cm above base of Flex unit without adapter installed, Add 1.5cm with adapter installed
ENVIRONMENTAL SPECIFICATIONS
Humidity: 100% condensing
Waterproof: IP65
PRODUCT SPECIFICATIONS
USB Port: Mini-USB port for charging and ElfPort™ expansion
Accelerometer: 3-axis
Display: 400 x 240 pixel transflective LCD screen with backlight
Firmware: Field upgradeable via app or USB
1Constellations and frequencies are dependent on receiver configuration and subscriptions.
---
Bad Elf Flex® UHF Radio Kit Specs:
UHF SPECS
Frequency Range
410-470MHz
Channel Spacing
25 kHz / 12.5 kHz
Operating Mode
Half-duplex
Modulation Type
GMSK/4FSK
Channels
36(programmable)
Operation Voltage
9~36V
Power Consumption(typical)
High power 7.5 W@12 V DC
Low Power 4.0 W@12 V DC
Standby 1.2 W@12 V DC
Frequency Stability
≤±1.0 ppm
Structural Specification
Size 15.81" (47.6 mm) X 3.26" (83 mm) X 1.25" (31.5 mm)
Weight
Approx. .14.46 OZ (410 g)
Antenna Interface
TNC Female
Antenna Interface Impedance
50 ohm
Data Interface
LEMO 5pin
Modem
Air Baud Rate
9600bps / 19200bps
Serial Port Baud
9600 bps / 19200 bps
38400 bps / 115200 bps
Transmitter
RF Output Power: 410~470 MHz
High Power(2.0W)33.5±1.0 dBm @ DC 12 V
Low Power (0.5W) 27.5±1.0 dBm @ DC 1 2V
Power Stability: ±1 dB
Adjacent Channel Power: >50 dB @ 25 KHz
ReceiverSensitivity: -115 dBm @ BER 10-5,9600 bps
Co-channel Rejection: >-12dB
User Manual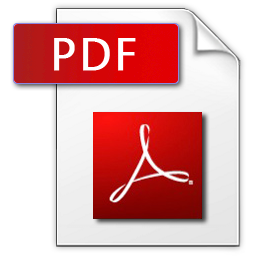 WARNING - This product contains chemicals known to the state of California to cause cancer, birth defects or other reproductive harm. For more information go to www.p65warnings.ca.gov.