HexArmor Rig Lizard Thin Lizzie Thermal 2091, Cut A6, IR-X Impact, Fleece-Lined
The Rig Lizard® Series is purpose-built to provide maximum grip in tough situations, with five grip options for water, oils, muds, and lubricants.
Each glove is also equipped with our highly flexible IR-X® Impact Exoskeleton™, keeping hands protected from smash and pinch injuries.
This combination of multiple technologies and features makes the Rig Lizard® the ideal solution for common oil, gas, and mining hazards.
And with options for cold and warm weather protection, your hands can stay safe and comfortable in any environment.
The cold weather version of HexArmor's popular Thin Lizzie 2090, this glove is designed to offer protection from extreme cold, cuts, abrasions and impacts, while maintaining flexibility and dexterity.
Product is Discontinued, Limited Supply Available, Qty available is Marked.
Features: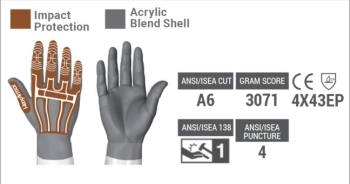 Knit: 13-gauge acrylic and glass fiber blend shell offers 360° degree cut protection while allowing maximum dexterity
Coating: Flexible sandy nitrile palm coating provides superior grip and abrasion resistance
Fleece lining for warmth and insulation
IR-X® Impact Exoskeleton™ with high-flex design protects against forceful blows to the back-of-hand; providing workers with ANSI/ISEA 138 Level 1 impact protection
Hi-vis color scheme increases visual awareness
Launderable
CE Cut Score: 4X43EP
ANSI/ISEA Cut: A6
Gram Score: 3071
Sizes Available:Small, Medium, Large, XL

| | |
| --- | --- |
| Size | Part Number |
| Small | 2091-7 |
| Medium | 2091-8 |
| Large | 2091-9 |
| XL | 2091-10 |

WARNING - This product contains chemicals known to the state of California to cause cancer, birth defects or other reproductive harm. For more information go to www.p65warnings.ca.gov.