HexArmor Rig Lizard Arctic® 2023, Cut 3 Palm + IR-X® Impact
At Hexarmor®, they aren't just satisfied with protecting your hands from work hazards.
We realize that cold weather can lead to a loss in feeling and facility, resulting in a serious threat to your hand safety.
The challenge lies in producing a waterproof and thermal-resistant glove, while preserving the dexterity attained by the Rig Lizard® 2021.
HexArmor's answer is the Rig Lizard Arctic® 2023, which provides the greatest comfort and range of motion you will get from a thermal rig and mining glove.
These features supplement the industry's most advanced Impact Exoskeleton™, and a synthetic grip, creating the new standard for a cold-weather oil and gas protective glove.
Discontinued, Limited Quantity Available. Quantity available is marked!
Features: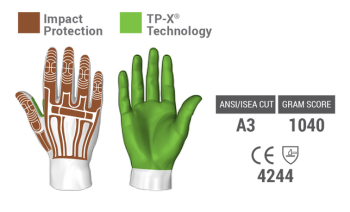 Dynamic combination of H2X™ and C40 Thinsulate™ interior liners for waterproof and cold-resistance
Durable TP-X® palm utilizes the highest-level abrasion resistance while maintaining oil-resistant grip
Synthetic palm with unique stitching pattern offers unrivaled comfort and dexterity
Full impact-resistant exoskeleton with high-performance IR-X® smash guards provides greater impact protection than the leading competitor
Additional IR-X® guard between thumb and index finger secures common pinch and catch points
Reinforced index finger and thumb crotch extends glove life
Exterior seams implement a double stitched core-spun thread, adding further durability and longevity
SlipFit® cuff adds comfort and convenience
Hi-vis color scheme increases visual awareness
ISEA level A3 cut and level 5 puncture protection
CE Cut Score: 4244
ANSI/ISEA Cut: Level 3 / A3
Gram Score: 1040
Sizes Available: Small, Medium, Large, XL, XXL


WARNING - This product contains chemicals known to the state of California to cause cancer, birth defects or other reproductive harm. For more information go to www.p65warnings.ca.gov.

Good if you leave them on.
I'd give these gloves a 5 if the liner was better. I used these up in the Baaken Oil Fields (brutally cold) and they stay reasonably warm and have great grip and protective features. Problem is once they liner gets sweat and wet sometimes the liner will pull out of the fingers and it's a real challenge to get everything back together again. For that reason alone I stopped wearing them and went to a Kinco 901 and never looked back. Those Kinco gloves are super warm and bulletproof.
Reviewed
Sat, Nov 24 2018 10:16 am
by
james