HexArmor Chrome Series® 4024, Cut A8 Palm + Impact, Anti-Vibration
Safety and comfort are two attributes HexArmor® pairs as often as possible.
For the entire Chrome Series®, that meant a pre-curve design, double-stitched seams, and form-fitting Velcro cuffs on each glove.
In applying these to the Chrome Series® 4024, HexArmor took it one step further by incorporating a padded palm, designed to reduce vibration and keep your hands comfortable during any difficult task.
On the back-of-hand, HexArmor implemented their advanced impact-protective system, so your hand is safe from smash injuries from any direction.
Lastly, the palm, fingertips, and thumb are printed with a high-grip PVC surface, providing you with exceptional grip in wet, dry, and light oil conditions
Features: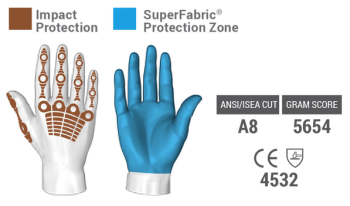 Padded palm reduces vibration damage while returning a higher level of comfort and extending glove life.
SuperFabric® brand material palm provides ISEA level A8 cut resistance and maintains the highest level of protection available in the industry.
PVC printed synthetic leather palm provides reliable grip in dry or light oil situations, while increasing abrasion resistance.
Superior back-of-hand impact protection system utilizes an advanced design to dissipate forceful blows over a large area.
Exterior and interior seams implement a double stitched core-spun thread, adding further durability and longevity.
Machine Washable
CE Cut Score: 4532
ANSI/ISEA Cut: Level 5 / A8
Gram Score: 5654
Sizes Available: 7/Small, 8/Medium, 9/Large, 10/XL, 11/XXL

WARNING - This product contains chemicals known to the state of California to cause cancer, birth defects or other reproductive harm. For more information go to www.p65warnings.ca.gov.