HexArmor Rig Lizard® 2021, ANSI/ISEA Cut A3 Palm + IR-X® Impact
When you asked for a glove with the highest level of dexterity without sacrificing impact protection, we listened.
The Rig Lizard® sets a new precedent for oil, gas, and mining safety gloves.
HexArmor's advanced TP-X® technology combines the unmistakable grip advantages of a synthetic palm with the scientific innovation that made HexArmor® the thought leader in PPE development.
After safety supervisors across the industry helped identify common on-site hazards, anything less than HexArmor's full-hand Impact Exoskeleton™ simply would not suffice.
Combine these features with a pre-curve design, double palm stitch, and HexArmor's maximum-comfort fingertip design, and you've unlocked the dexterity and protection needed for optimum performance.
Glove Discontinued, limited supply available, Quantity available is marked.
Features: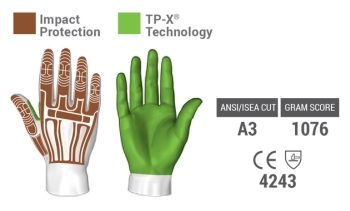 Durable TP-X® palm utilizes the highest-level abrasion resistance while maintaining oil-resistant grip
Synthetic palm with unique stitching pattern offers unrivaled comfort and dexterity
Full Impact Exoskeleton™ with high-performance IR-X® smash guards provides greater impact protection than the leading competitor
Additional IR-X® guard between thumb and index finger secures common pinch and catch points
Reinforced index finger and thumb crotch extends glove life
Exterior seams implement a double stitched core-spun thread, adding further durability and longevity
SlipFit® cuff adds comfort and convenience
Hi-vis color scheme increases visual awareness
ISEA level A3 cut and level 4 puncture protection
CE Cut Score: 4243
ANSI/ISEA Cut: Level 3 / A3
Gram Score: 1074
Launderable
Sizes Available: XS, Small, Medium, Large, XL, XXL, XXXL

WARNING - This product contains chemicals known to the state of California to cause cancer, birth defects or other reproductive harm. For more information go to www.p65warnings.ca.gov.