Bulwark FR Hi-Vis FR Lightweight Long Sleeve T-Shirt, Lime
Hi-Visibility Lightweight Long Sleeve T-Shirt- CAT 2 - SMK8HV
Lightweight, Breathable
Flame-resistant
This flame-resistant garment meets the requirements of NFPA 2112, Standard on Flame-Resistant Garments for Protection of Industrial Personnel Against Flash Fire, 2012 Edition.
360° visibility with front and back 2" segmented heat seal silver reflective striping
Concealed chest pocket with pencil stall
Full underarm gussets.
Rib knit collar and cuff.
Fabric: Flame-resistant, 6.7 oz. (225 g/m²) 48% Modacrylic / 37% Lyocell / 15% Aramid
Protection (including ATPV, CAT and/or 2112 compliant): ATPV 8.3, CAT 2 NFPA 2112
Care: Home Wash and Light Soil
Protection: Arc Rating ATPV 8.3 calories/cm²
ANSI 107-2010 Class 3 Level 2 Compliant
ANSI 107-2015 Type R Class 3
Country of Origin: Imported
Colors: Hi Vis Yellow
Sizes: Regular Length; Medium-5XL, Long Length; Large-5XL
FR HI-Visibility
FLAME-RESISTANT. COMFORTABLE. COMPLIANT.
Bulwark® offers garments designed to provide additional wearer safety during periods of limited visibility or in the often complex and varying backgrounds found in many occupations such as traffic control, construction and utility work along roadways and equipment operation.
Sizing Chart**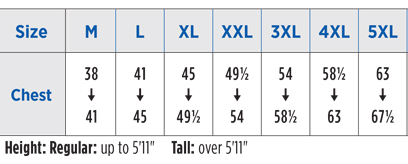 **Custom sizes can be ordered by calling 877-844-3101, we will have them custom made.
How to Measure a Chest
Fabric: Flame-resistant, 6.7 oz. (225 g/m²) 48% Modacrylic / 37% Lyocell / 15% Aramid
Protection (including ATPV, CAT and/or 2112 compliant): ATPV 8.3, CAT 2 NFPA 2112
Care: Home Wash and Light Soil
Protection: Arc Rating ATPV 8.3 calories/cm²
ANSI 107-2010 Class 3 Level 2 Compliant
ANSI 107-2015 Type R Class 3
Country of Origin: Imported
Colors: Hi Vis Yellow
Sizes: Regular Length; Medium-5XL, Long Length; Large-5XL
WARNING - This product contains chemicals known to the state of California to cause cancer, birth defects or other reproductive harm. For more information go to www.p65warnings.ca.gov.