SECO Class 2 Safety Utility Vest w/ Outlast Collar
8265 Series Class 2 Safety Utility Vest w/ Outlast Adaptive Comfort Collar
This vest was developed in conjunction with surveyors from the California Department of Transportation.
This vest meets ANSI/ISEA 107-2010 Class 2 federal mandatory requirements.
It is made from durable ANSI/ISEA compliant polyester and polyester mesh.
This vest has YKK zippers.
It has a 4-inch (10.16 cm) wide reflective tape with 2-inch (5.08 cm) wide silver stripes.
The padded collar is made with Outlast* fabric on the inside.
This vest features multiple outside pockets for cell phone, tapes, radio, pencils, maps, spray cans, etc.,
Plus two inside pockets and a zipper pass-through back pocket.
It comes with dual mic clips.
The chest sizes range from 40 - 66 inches (101.6 - 167.64 cm).
This vest is available in fluorescent orange or fluorescent yellow.
Made at Geo de SECO, Mexico.
*Outlast material
Outlast material balances your temperature through the use of patented microencapsulated Thermocules(tm) that absorb and store excess heat.
The heat is then released when your body needs it most.
Outlast's phase change material allows you to stay cooler in the summer and warmer in the winter.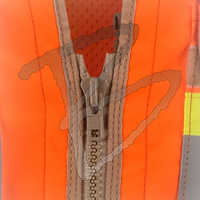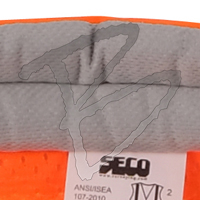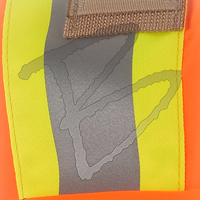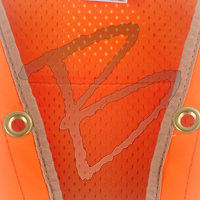 Vest Sizing Chart*
Number:

Chest:

Size:

8265-42-XXX

40 to 42 in

S

8265-46-XXX

44 to 46 in

M

8265-50-XXX

48 to 50 in

L

8265-54-XXX

52 to 54 in

XL

8265-58-XXX

56 to 58 in

2X

8265-62-XXX

60 to 62 in

3X

8265-66-XXX

64 to 66 in

J
*Fitting a SECO Safety Vest: Measure around the fullest part of your chest. Allow room for your work shirt and/or jacket under the vest when measuring - an inch or two is recommended.
WARNING - This product contains chemicals known to the state of California to cause cancer, birth defects or other reproductive harm. For more information go to www.p65warnings.ca.gov.