Sokkia/Eslon 100-ft Fiberglass Tape, Appraisers Hook-end
Brand: Sokkia
SKU: 845274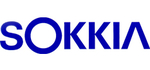 Authorized Dealer
Sokkia/Eslon 100-ft Fiberglass Tape, Appraisers Hook-end
These long-lasting tapes have special hook ends to assure accuracy
Lightweight case is virtually shatterproof.
The special handle design makes reeling quick.
Width 1/2in wide
Appraisers hook-end
Printed on one side.
Lengths: 100ft
Graduated in ft./10ths/100ths
Sokkia/Eslon Warranty:
Sokkia/Eslon tapes are covered by a full one-year warranty.
If your Sokkia/Eslon tape breaks or if it is defective, Sokkia Corporation will replace it at no charge for up to one full year from the original date of purchase.
This warranty also covers defective or broken tape reels and cases.
Details are supplied with the tapes.
---